Other Cachers
About a week ago, the Andy Capp cartoon was very appropriate for my geocaching adventures (although I don't swear).


My geocaching profile has the following picture on it.


I've been asked about my Extreme Dominoes photo a couple of times so I thought that the publication of this cartoon would be a good way to kick off the story –
We had been doing a series of caches that involved collecting dominoes and dice as we walked around the country park. At the end of about 7 stages, one of the puzzles involved laying all the dominoes together as if you playing dominoes and then adding the numbers at either end of the sequence. As we were trying to get the solution worked out, I grabbed my box of signature item dominoes out and we laid them on the ground to ensure we were doing it correctly. (As it turned out there were two possible answers – we got the *other* one). As we were doing this, in a middle of a public footpath, so more walkers wandered past and gave us a funny look. One of the people in the team shouted out "Extreme Dominoes" to them and they nodded their heads as if that explained everything and carried on.
For those of you who have not heard of Extreme Ironing (which is where the comment was based) then visit the Extreme Ironing Website with more links and videos than you can imagine.
The Ohio Delorme geocache requires a visit to each cache in the Delorme atlas for Ohio but only visits after the cache was placed will count towards the cache find. Once a cache has been found on each page you then get the co-ordinates for the final cache hidden somewhere in Ohio.
With the aid of a KML file, the recent finds pocket query, GSAK and Google earth it is quite easy to work out which pages you need to do.
First download the Ohio Delorme KML file from the main cache page, GCZ554. Next download Google Earth (if you don't already have it already. Finally you want a .loc file of all your finds since the 2nd of December 2006 when the cache was placed. The easiest way to do this is to download your latest finds into GSAK, then using the filters set State=Ohio, Found=Yes, Date=On or After 12/2/2006. I saved the filter as Delorme so I can run this whenever I need to check my status.
In Google earth open the KML file and then open the loc file to see the caches appear in gridlines for each page. You may want to turn off extra options and layers such as road names, community uploaded content etc. This will give you a cleaner picture.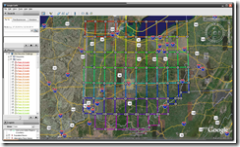 The picture above shows the gridlines and the picture below shows my found caches so far. I've actually found quite a few other pages but unfortunately they were before the cache was placed so they don't count.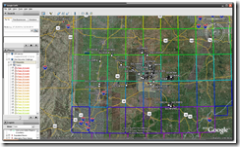 So far I've found pages 45-48,55-59,65 and 67-69
Meanwhile TeamJNLe4 completed all the pages yesterday and now just has to go for the final cache – congrats Jonathan!
Found my 400th cache yesterday – a great day out caching – thanks for the company Team Lefor!
As part of the Central Ohio Geocachers meet today, we all went to the March to the Arch webcam cache and Kristen took the photo. As this is the first webcam that I've had a chance to log I got another icon on my Stats
Thanks luv!
Plook asked if I wanted to join him and some others in going to do encrypted cache and Jeff's #2. The answer was yes of course, so we headed on down there this afternoon. Had a good time finding the cache which was easy to find when you know what you are doing. I'm glad I had confirmed my coordinates though – a 136′ error (which I had initially) would not have helped in finding the cache.